Mini Shopaholic
Yeah, aku baru berpeluang baca buku ni,
almost a year
aku tunggu versi paperbag
(sebab dia lagi murah? instead hardcover 69.90).
Terima kasih untuk orangitu.
(sebab dia hadiahkan buku ni as birthday present, auww suka tak hingat !)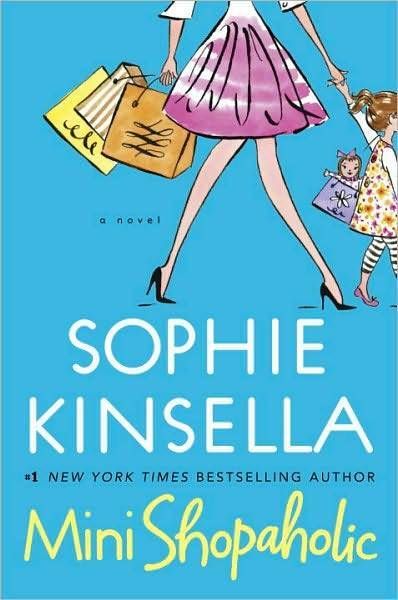 Mini Shopaholic adalah
sambungan
Shopoholic and Baby. Buku ke lima dari shopoholic series.
Aku mula baca siri ni tahun 2009
(masa tu banyak gila buku baru kat library, sem 2)
. Lambat ! Series ni dah mula dari tahun 2000 lagi.
Buku pertama
aku baca adalah Shopoholic Takes Manhattan
(siri 2)
. Lepas tu aku terus addicted, maca ada drug dalam buku ni. Tanpa melenggah-lenggah terus jadi ulat library untuk cari sambungan dia.
(Dan baru aku tau rupanya dia bersiri).
Unfortunately, not all title ada di library,
terpaksa beli sendiri
hehehe.
(dan bermulala fasa addicted aku dengan penulis ni
)
Siri dia :-
1. The Secret Dreamworld of a Shopaholic
2. Shopaholic Ties the Knot
3. Shopaholic & Sister
4. Shopaholic & Baby
5. Mini Shopaholic (excited !)
Apa yang aku
suka pasal
series ni adalah KELAKAR. Setiap bab kekalar, lagi-lagi watak Becky.
Watak dia kelam kabut, pantang nampak sales, suka cakap sendiri dan cute.
Sebenarnya
plot
cerita dia macam biasa, obviously tentang Becky yang kaki shopping dan akhirnya terlibat dengan debt. Kemudian dia berjumpa dengan Mr Right, Luke dan berkahwin. Dalam siri ke tiga, Becky dapat tau yang dia ada half sister which opposite to her.
(Dia suka shopping, tapi kakak dia suka berjimat)
Becky ngandung dan ada anak yang juga bakal kaki shopping !
Ketagih.
Actually cerita ada di
filemkan
, tapi aku kurang gemar dengan filem dia. Why, sebab watak Becky tak seperti yang dibayangkan even worst, sedih. Dan cerita dia aku rasa sangatla laju.Taksuka.
:P
"Never give up on something you really want. However impossible things seem, there's always a way" - Becky Brandon (Mini Shopaholic) - favorited quote
Oh yeah, para penulis sekalian Sophie Kinsella
gives some tips.
(Sebenarnya ada fan tanya dia)
Check this out !
(mungkin berguna?)